Concert Bosbapanh@Angkor
 Master Cambodian and international performers join Bosbapanh, Khmer soprano, age 14, in paying tribute to Khmer Masters. On 25-26 February 2011, against the stunning backdrop of the Bayon Temple, 150 artists took the audience on a musical journey showcasing the best of traditional and contemporary Khmer musical heritage. 18 songs and classical dances by Bosbapanh and guests artists including Ung Chinary (Khmer-American composer); Sarah O'Brien (British composer "Winds of Angkor"); Louise and Patrick Marty (Les Trois Tambours, France); Jean-Marc Padovani ("Jazz at Angkor, France); Tenor Khuon Sethisak; Laura Mam and The Like Me's (Khmer American pop singer); Hong Kong New Music Ensemble; Em Theay, Thong Kim An and family (master Khmer dancers); Yun Theara (mohori traditional orchestra). Soy Sareth (Pinpeat traditional orchestra).
"This is absolutely world-class, magical" (Sarah O'Brien, composer)
"Her talent is amazing. A fantastic show in front of the Bayon" (John McDermott, photographer).
The DVD is on sale on CDBABY.COM for $15. They can send the DVD everywhere you are ! click here: http://www.cdbaby.com/Artist/Bosbapanh
DVD Concert Our Mothers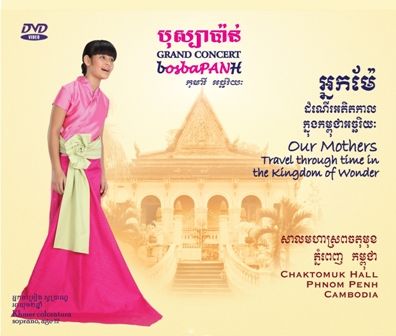 Filmed on 9th October 2009 at Chaktomuk Hall, Phnom Penh, bosbaPANH, age 12, gives a unique two-hour performance. Neak Me, Our Mothers is celebrating the love and dedication of mothers. The concert includes a range of classical pieces such as the Concierto de Aranjuez, Ave Maria, La Vie en Rose, the elegant songs of King Father Norodom Sihanouk, Sin Sisamouth and traditional Khmer mohori music.
There are two DVDs in the package as well as the booklet of the Concert.
DVD1: THE CONCERT. Set in the mid 20th century, the concert narrates the exploratory journey of a family of teachers, when the French are debating about their civilizing mission in Indochina. bosbaPANH interprets a repertoire of 22 songs, images and dance to describe the Mother's first journey to Phnom Penh, in the Kindgom of Wonder. 
DVD2: BEHIND-THE-SCENES. A special one-hour documentary offers a unique insignt into the behind-the-scenes story. Much is revealed about the inspirations, challenges but also friendships that went into the making of this concert. 
The public says:
"It is a beautiful concert. It is profoundly Khmer but also international through the songs selection. I am very impressed by a person who is so young and so talented".
"We are promoting Cambodia as the Kingdom of Wonder. bosbaPANH is one of our Wonders. She helps promote our country and will inspire other young artists".
La Vie en Rose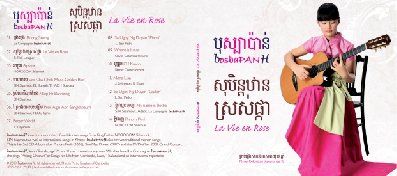 We have launched my third CD Album "La Vie en Rose". This is the most sophisticated CD we have done so far, with a very nice box and song booklet. The design was done by Phibious and Jojo spent a lot of time to design the booklet. This CD has 15 songs including those I have recorded in the Philippines. Songs: Buong Suong, La Vie en Rose (E.Piaf, Louigy), Apsara (NORODOM Sihanouk), Vea Cha Chab Meas - Golden Bird (Sin Sisamout), Mlop Po Bakheing (Sin Sisamout), Prek Aign (Sin Sisamout), Better World (Ryan Cayabyab), Sa Ugoy Ng Duyan (L. San Pedro), Where is Love (Columbia Pictures), O'Kruon (mohori traditional song), Mona Lisa (J. Livingston), My Name is Bosba (Sin Sisamout, adapt. La Compagnie Bosbapanh), Phnom Penh (NORODOM Sihanouk).
SrorMay Dream (Video)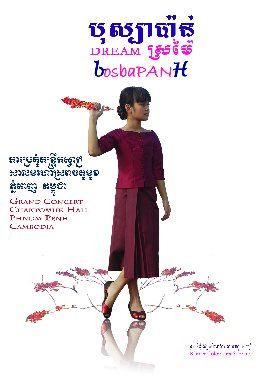 Filmed on 21st December 2007 at Phnom Penh's Chaktomuk Hall, BosbaPANH, age 10, interprets a number of well-known songs from King Father NORODOM Sihanouk and Sin Sisamout as well as several international songs in Khmer. BosbaPANH also revives traditional Mohori music. Songs list: Buong Suong, Champa Battambang, La Mauvaise Reputation, Bompe, Mona Lisa, Le Chant des Partisans, O Douang Champa, Blowin' in the Wind, Om Touk Chhoh Chhak, Brise de Novembre, Thoub Bei Sorsay, Phnom Penh.
_
You can buy SrorMay Dreams at Monument Bookshop (111 Norodom Bd, Phnom Penh) or Carnets d'Asie (French Cultural Centre, Keo Cha street).
Special Edition "Champa Battambang"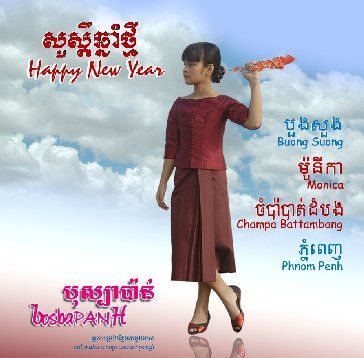 This is a special edition for the Khmer New Year. Bosbapanh sings two beautiful love songs: Monica by King Father Samdech Ta Tuot NORODOM Sihanouk and the second one is "Champa Battambang" by SIN Sisamouth.
SrorMay Dream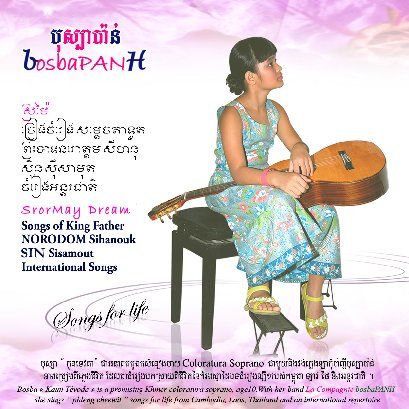 This is the second album of Bosba which was released on December 21st 2007. It combines classical Khmer songs and lullabies such as Bompe (traditional), Chumno Vicheaka (Samdech Euv) as well as international songs sung in Khmer : Mona Lisa, le Chant des Partisans, Blowin' in the wind. The CD can be found in Phnom Penh at Monument Books and Carnets d'Asie.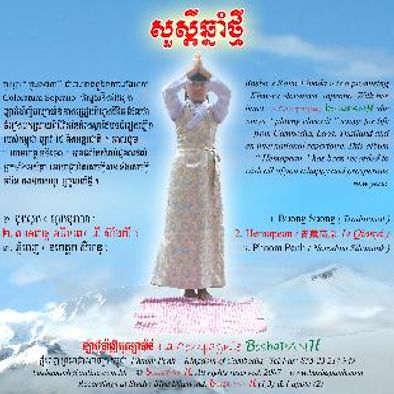 Special edition "Hemapean"
This is a single from Bosba. It has been produced to wish all of you a happy and prosperous new year. The song is an adaptation from the famous Tibetan song "Qing Zang Gao Yuan" (Li Qianyi) which has been interpreted only by the best voices in China. The Himalayas are important elements of the Khmer mythology and Bosba made the pilgrimage this summer.
Album "Phnom Penh"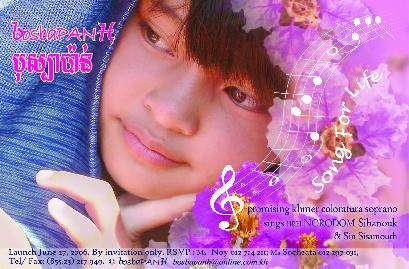 This is our first CD Album. It contains the first 10 songs that you can hear on this site: Buong Suong, Monica, I will wait for you, Ode to a Star, The night I met you, Falling Leaves, 75 On the Bridge - Under the bridge, Samrong Chongkal and Phnom Penh. It has been recorded for BosbaPANH's ninth birthday with her band "La Compagnie BosbaPANH".
_
For now, only available in Cambodia at Monument Bookshops (113 Norodom Boulevard, Phnom Penh), Carnets d'Asie (in the French Cultural Center). If you are overseas and would like to buy our CD, please contact us.
Poster BosbaPANH
Bosba's first poster advertising the release of "Phnom Penh" album.
_