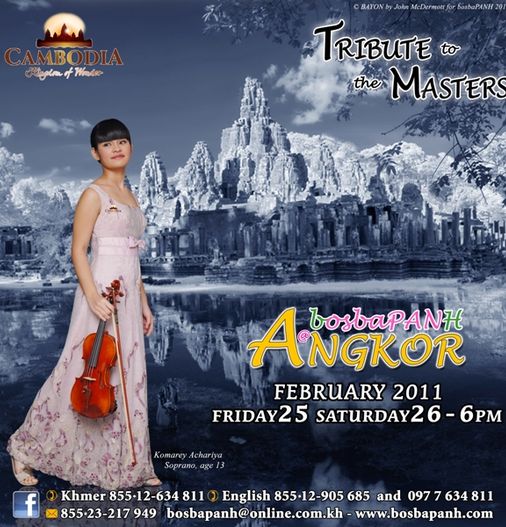 Phnom Penh, 15 October 2010.To promote Cambodia as a destination and showcase the Kingdom's finest musical heritage, bosbaPANH, Khmer soprano, age 13, and the Living National Treasures of Cambodia will stage unique concerts at Angkor Wat – Bayon Temple (Siem Reap) on Friday 25th and Saturday 26th February 2011: bosbaPANH @ Angkor, Tribute to the Masters. Special guests from Paris, Hong Kong, Shanghai, Kuala Lumpur, San Diego and San Jose (USA) will come to Cambodia for these performances.
The event takes place on two nights so that a wide range of fans can attend. On the first night, the "Sponsors' night", which is being held for international visitors and VIPs, tickets cost $80-$100 per person, and combine the concert with a gourmet dinner featuring Cambodia's finest cuisine by leading chef Luu Meng. Part of the profits from this evening will be donated to the Foundation for Khmer Arts to support artists in need. On the second night, the "Fans' night", seating will be only $2.50 (Riels 10,000) for Cambodians; seats in front of the stage will cost $10-$20.
Staging the concerts at Angkor links today's performers with Cambodia's extraordinary archeological heritage. Over the centuries, Cambodia's artists and musicians have inspired and shaped Khmer culture and society. Decades of wars led to the disappearance of many leading artists and performers, nearly destroying the transmission of knowledge.
To pay tribute to both known and unknown Khmer artists, the surviving master artists and international musicians are joining bosbaPANH for an exceptional performance. They will take the audience on a musical journey spanning 900 years from Queen Indradevi, spouse of King Jayavarman VII – the great builder of Angkor – to Queen Kossamak, mother of King Father Norodom Sihanouk. Both Queens have fostered the arts of Angkor.
During the two concert nights, Angkor – Bayon Temple comes to life with an elegant display of lights and sound. Against this breathtaking backdrop, classical and contemporary performers will create a unique artistic experience. 
The concert will feature:
-          Tribute to the masters, Smot, the gospel music of Cambodia.  Performed only during ceremonies, these traditional incantations create a gospel sound when performed with Khmer classical ensembles and bosbaPANH on vocals.
-          The ethereal Music of Ung Chinary. Works by the Khmer-American composer, winner of the equivalent of the Nobel Prize for composition, will be played by the Hong Kong New Music Ensemble, one of Hong Kong's most progressive groups of musicians.
-          Apsara songs. A western-style choir will pay homage to the 1,796 Apsaras (female deities) carved into the walls and columns of Angkor Wat. Apsaras were first depicted on the walls of Angkor dancing in the sky during the Churning of the Sea Milk. Throughout Khmer history, composers have created music for Apsara dances that are still performed today.
-          The arrival of the 1stChinese Ambassador, Zhou Daguan, at the court of Angkor. This surprising and harmonious composition integrates Chinese and Khmer traditional instruments and features the young Cambodian flautist, Panhlauv, age 10, in duet with master Chinese flautist Liao Qu Cheng from the Shanghai Dongfang Guodong Orchestra.
-          Cambodian ballads. Sin Sisamout, Cambodia's famous pre-war Golden Voice, and Ros Sereysothea launched crooning and Khmer folk-rock in the 1950s and 60s.
-          Jazz at Angkor. Acclaimed French jazz musician Jean Marc Padovani performs music he composed and first played at Angkor in the 1990s, and is accompanied by the same Khmer traditional mohori ensemble, led by Yun Theara.
-          Music from exile. Born in the US, 23-year old Laura Mam composes her own music and lyrics, with inspiration from the thriving Cambodian music scene of the 1960s.
-          Royal songs. Songs written and composed by King Father Norodom Sihanouk have been specially arranged with jazz stylings for bosbaPANH.
-          Ramayana Dance. Choreographed by EM Theay, her daughter, son, and granddaughter, the first dance, which is performed by Sibxynapanh, 20, and Nam Narim, a contemporary dancer trained in Korea, depicts the battle between the demon Krong Reab and Prince Preah Leak. The second dance features Panhlauv, age 10, as the young Hanuman, the future Monkey King, and his master, who is performed by Thong Kim Ly.
bosbaPANH @ Angkor is an exceptional event, bringing Angkor – Bayon Temple to life as the enchanting backdrop for an evening of musical story-telling and dance by Khmer masters, international guest musicians, and young coloratura soprano bosbaPANH.
DETAILS OF THE EVENT
Dates and prices:
Friday, 25 February 2011 - Sponsors' Night, with gala dinner and concert: $80-$100 per ticket for dinner, drinks and a contribution to the Foundation for Khmer Arts to help artists in need. 
Saturday, 26th February 2011 - Fans' night, with concert and open bars: 10,000 riels ($2.5) for Cambodians; seats in front of the stage cost  $10-20$;
Time: 6 pm – 9 pm (doors open at 5.30 pm)
Venue: Angkor – Bayon Temple, North Square. Siem Reap, Kingdom of Cambodia
Tickets:
Phnom Penh: Monument Books, Café Sentiment, YiSan Restaurants, Malis Restaurant and Lucky Stores.
Siem Reap: McDermott Galleries, Monument Books and Lucky Stores.
 Package tours
Special tours are available for domestic and international visitors that include concert tickets and accommodation at various prices.
ASIAN TRAILS : contact Sophearun (Tel: +855 (0)23 216 555) or by email: sophearun@asiantrails.com.kh. High and mid-range competitive packages.
CAMROADS: Contact KANG Vannak (Tel: H/P: +855 (0) 12 570097 / +855 (0) 16 855888) or by email kangvannak@yahoo.com. with entry-costs packages / neat guesthouses and travel by bus.
THE MASTER CAMBODIAN ARTISTS
 Queen Indradevi (12th century). Spouse of King Jayavarman VII, the greatest king of the Khmer empire, Queen Indradevi was well-known as a scholar, philosopher, and protector of the arts and ancient scripts. She is considered a Goddess of the Arts by Cambodians.
Queen Kossamak Nearireath (1904–1975). The mother of King father Norodom Sihanouk, Queen Kossamak was instrumental in reviving court dance and music in the 1940s. Under her guidance and patronage, the arts flourished, and many traditional dances were revived and refined at the Conservatory of Performing Arts and the Royal University of Fine Arts in Phnom Penh. The Queen Mother made the royal dance an important part of the royal Khmer court as well as a significant feature in the culture of modern Cambodia.
King Father NORODOM Sihanouk. The King Father, who led Cambodia's independence from colonial rule, is also a talented musician and composer. He promoted both traditional and modern musical arts, both inside and outside the palace, and kickstarted Cambodia's pre-war music industry. King Father Sihanouk's repertoire of songs ranges from traditional compositions to R&B and jazz tunes. His music continues to be learned at the Royal University of Fine Arts.


Venerable Chhuon Nath (1883-1969). He was the Supreme Patriarch Kana Mahanikaya of Cambodia. He spent his life working for conservation of the Khmer language and promoting Khmer identity and history. His achievements include the development of a comprehensive Khmer dictionary and the composition of Cambodia's national anthem, Nokor Reach, as well as Savada Khmer. He also oversaw the translation of the entire Buddhist cannon from Pali to Khmer. Considered the Shakespeare of Cambodia, Venerable Chhuon Nath is one of Cambodia's most famous and knowledgeable monks.
SIN Sisamouth (1932-1976). Recordings and renditions of songs by Cambodia's most popular singer in the 1950s and 60s are still very popular today. Called the Khmer Golden Voice, Sin Sisamouth first became famous as a radio singer in the late fifties, and then branched into film and TV. Although he performed many rock and Latin tunes, he is best known for his silky crooning and is often compared to singers such as Nat King Cole.
EM Theay. A master of Cambodian classical dance, Em Theay is among the 1-in-10 artists who survived mass-murder under Pol Pot. In several books dedicated to Khmer Royal Dance, she is referred to as the Tenth Artist. Born in 1932, Em Theay´s love of dance began when Queen Kossamak noticed her at age 7 and began training her as a classical dancer for the Royal Court.  During the Khmer rouge period, nearly all Em Theay's family were killed, and only 5 of her 18 children survived. After the war, Em Theay returned to dancing and has been designated a Master of Performing Arts by the Ministry of Culture. At age 78, she continues to train young Cambodians in the art of Khmer Royal Dance.


Yun Theara. One of the most gifted mohori players in the country, Theara is widely acclaimed as a master of traditional instruments such as the tror, roneat, flute, and xylophone. He is the General Affairs Deputy Director General at the Ministry of Culture and Fine Arts, directs several ensembles and blends western and traditional music in performances such as Jazz at Angkor (Padovani), Where the Elephants Weep (Him Sophy), and Cracking Bamboo (International Percussion Music Festival).
SOY Sareth. Leading the best pinpeat traditional ensemble in Cambodia, Sareth is a Professor in the Music Department at the Royal University of Fine Arts and Culture, and a virtuosi of pinpeat instruments. The pinpeat ensemble, made of wind and percussion instruments, is one of the most ancient Cambodian musical ensembles and is closely associated with the Angkor period. Pinpeat instruments played by celestial dancers are carved into the walls of Angkor Wat.
PROEUNG Pruon. An inspired percussionist, khru Pruon is considered a Living National Treasure for his mastery of roneat ek (xylophone) and traditional drums. With a born instinct for rhythm, he is unrivaled in the art of improvisation when playing with the traditional pinpeat or mohori ensembles.
UNG Chinary. A member of the first graduating class of L'ecole de Musique, Phnom Penh, Ung emigrated to the United States in 1964, where he was one of the first composers to successfully integrate music from East and West. In 1974, he was the first Cambodian composer to obtain a Doctor of Musical Arts (DMA) in composition from Columbia University in New York City. He is currently a Professor of Composition at the University of California, San Diego. His symphonic tone poem, INNER VOICES, which was commissioned by the Philadelphia Orchestra won him a highly coveted international Grawemeyer Award for Composition, considered the 'Nobel Prize' for music composition.
 SPECIAL GUESTS
 Hong Kong New Music Ensemble (HKNME). Comprised of seven professional musicians, HKNME is a chamber ensemble formed in 2008 with some of the best local and international instrumental musicians living in Hong Kong. These include members of the Hong Kong Philharmonic, the Hong Kong Sinfonietta, and the Chinese Music Virtuosi. The HKNME presents the best new music in Hong Kong by local Hong Kong composers, Asian composers and important international figures. The HKNME also fosters interesting interdisciplinary collaborations and explores experimental music, playing with both conventional and unconventional instruments. (http://www.hknme.org/)
 IENG Sithul. Sithul is one of the most established and well-known folk and traditional singers in Cambodia.  In charge of Folkloric Dance at the National Theatre (Ministry of Culture and Fine Arts), Sithul has created and directed seven theatre pieces and performed extensively for radio and television in Cambodia. In 1982 he won a prestigious playwright's prize and received a medal of honor from the Royal Government of Cambodia in 2003. 
KHUON Sethisak. The Cambodian tenor is a graduate from Tchaikovsky Conservatory, Moscow and won the Bella Voce competition in Russia in 1994. He became a music teacher at the Royal University of Fine Arts in 1996 and has traveled around the world, studying and performing opera in festivals and recitals. In 2001, he returned to Phnom Penh and has since worked steadily to bring opera to Cambodians.
LIAO Qu Cheng. A professional flutist and leader of the Shanghai Dong Fang Guodong Orchestra, master Liao has participated in numerous performances and won top national awards. With 30 years of teaching experience, he is an International Senior Examiner for the Hong Kong, China and British music examination boards.
MAM Laura. 23-year oldCambodian-American singer and songwriter Laura Mam, a UC Berkeley graduate, together with her band The Like Me's, have been inspired by the thriving Cambodian music scene of the 1960s. One of their first recorded songs pays homage to PEN Ron, one of Cambodia's first female singer-songwriters, who perished during the Khmer Rouge regime.
MARTY Louise and Patrick. Louise, harpist, and Patrick, trumpeter, are professional musicians who founded 20 years ago, the school Les Trois Tambours. The school provides instrument courses, group training for orchestras and choirs to over 200 students in Paris. The school has developed similar projects throughout the world (Africa, Brazil, Switzerland, Germany). It provides experienced musical education and training by means of exchanges between young musicians, and events for artistic creation projects. Louise and Patrick join Jean Marc Padovani in Jazz at Angkor and interpret their own composition with Bosbapanh. (www.3tambours.com)
NAM Narim. Nam Narim comes from a long family line of esteemed Cambodian classical dancers. Her grandmother is Em Theay, and her mother, Thong Kim An, is considered the greatest 'Giant Demon King role' dancer of her generation. Her six brothers and sisters are all established dancers and musicians.  Starting to dance at the age of 9, she holds a BA in choreographic arts from the Royal University of Fine Arts in Phnom Penh and a master's degree in choreography from the Korean National University of Arts. She is a member of the Cambodian National Theatre troupe of the Ministry of Culture and Fine Arts.
O'BRIEN Sarah. A British composer and cellist, Sarah is one of Hollywood's leading studio musicians. She has recorded and performed live with celebrities such as Celine Dion, Andrea Bocelli, Whitney Houston. In 1994 Sarah was selected by Yanni for his World Tour and has been touring and featured in all his DVDs since that time. In August 2010 Bosba was the child soloist in the new musical "Winds of Angkor" (wwww.windsofangkor.com) that was composed by Sarah and presented at Phnom Penh's Chatomuk Theatre. Bosba will be performing Sarah's new composition for the Angkor concert.
PANHLauv. The 10-year old younger brother of bosbaPANH, is a gifted flutist, clarinetist and drummer.  Trained in China, the Philippines and Cambodia, he is the youngest flutist in the kingdom and his teachers say that he will become a great musician and conductor.
PADOVANI, Jean-Marc. Saxophonist and leading French jazz composer, Jean-Marc Padovani composes jazz with lyricism, brassy enthusiasm, melancholy, and sensuality. Drawing on his inspiration, he has formed a quartet, created shows, directed a brass band, and composed several flamenco pieces, blending jazz and traditions from Africa and Occitanie in south-east France. In 1997, he composed Jazz at Angkor and played it with Khmer musicians such as YunTheara. Padovani is coming specially from Paris to take part in this two-day concert.


SibxynaPANH. The 20-year old brother of bosbaPANH, Sibxynapanh, has been learning Ramayana classical dance since the age of 6. Now studying in Beijing, he is preparing to enter the Beijing Dance Academy, the premier institute for dance in China. This will provide an important opportunity to contribute to Cambodian classical dance by adding western classical ballet and Chinese dance traditions.
SIMPHONY Music Studio. Flautist Roland Chong and pianist cum violinist Angie Ang, both from Malaysia, established this first complete music school in Cambodia in mid-2010. The official centre appointed by Trinity Guildhall (United Kingdom) and Shanghai Exam Board (China), Simphony provides in-depth learning of music from beginners to advanced grades. Roland and the musicians from Simphony will accompany bosbaPANH on selected songs.
THONG KIM AN. The best 'Giant Demon King' role dancer of her generation, Thong Kim An began her classical dance training after completing secondary school education in 1962. Her training involved both classical and traditional dance, and she specialized in the male and 'giant' roles. Her career was disrupted by the outbreak of civil war in the 1970s. In 1979, after the Khmer Rouge regime ended, she began performing again with the Ministry of Culture. Currently, Khru Preab, as she is affectionately called by her students, continues to create new pieces and give regular performances.