"WINDS OF ANGKOR" – A NEW MUSICAL BY BRITISH COMPOSER SARAH O'BRIEN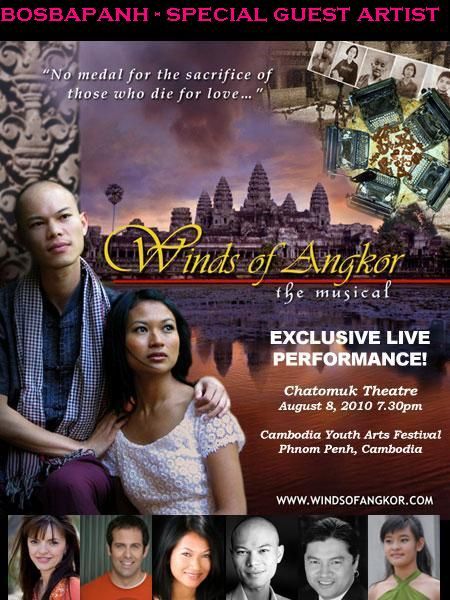 CAMBODIA CAST

Jessica Pennington......................................................Mai
David Nett...................................................................Alex
Amara Chhin-Lawrence.....................................Sopheap
Jean-Baptiste Phou...................................................Chan
Roberto Perlas Gomez...................................Ratha Sam
BosbaPANH.................................................child prisoner
Choreography by Maritza Navarro
Lighting and Projections by Bryan Faris
Video Direction by Melissa Holt
Audio Design by Wolfgang Aichholz
 On August 8th at Chatomuk Theatre, highlights from the new musical "Winds of Angkor" will be presented as part of CLA's Cambodian Youth Arts Festival. British composer Sarah O'Brien will introduce the piece which will be performed by an international cast and Cambodian artists including Amara Chhin-Lawrence, Jean-Baptiste Phou, Chamnap Nou, contemporary dancer Belle, and young soprano Bosba Panh. A children's chorus from Seametrey Children's Village will also perform, under the direction of Muoy You.    
  "Winds of Angkor" is set in contemporary Cambodia, with flashbacks to the Khmer Rouge regime of the late 1970s. The story chronicles a forbidden love affair between prisoners of the Khmer Rouge, and its impact on a Western journalist who falls in love with a survivor of the regime. The double love story is told through music and dance, and specially designed video projections, created in Hollywood, USA.
 Letters exchanged between prisoners of the Khmer Rouge regime were discovered in Tuol Sleng (S-21) archives and became the inspiration for 'Winds of Angkor' after they were featured in a British newspaper in the late 1990s. Over the next ten years Sarah visited Cambodia several times to research the piece.  She also got involved with the Cambodian community of Long Beach, California as she developed a musical score that combines traditional Cambodian elements with Western-style symphonic elements. Last summer Sarah had the opportunity to film excerpts from the show which can be viewed at www.youtube.com/windsofangkor.
 "We are very excited and honoured to perform for the first time in Cambodia!" says composer Sarah O'Brien. "The cast and crew of Winds of Angkor have worked for many years to develop the piece and we are all grateful to CLA for this incredible opportunity. We are also looking forward to meeting the other participants and learning more about Cambodian culture. It will be a unique collaboration and everyone has been practicing very hard in their home countries. When it all comes together it will be a dream come true, and something very special that we hope the audience will enjoy."
 One of the songs will feature Bosba Panh in a role that was specially written for a child to perform. Bosba will rehearse with Amara before joining the cast when they arrive from Los Angeles and Paris.
 Plans to stage a full production in Cambodia and major cities internationally are currently under discussion. Profits will benefit ongoing development in Cambodia and Cambodian communities around the world.
 "Winds of Angkor" is currently supported by STEAM Int'l Inc – (Service through Entertainment, Art & Music) – a 501 (3)(c) non-profit production company established by the composer.
For more information and sponsorship opportunities, please contact: 

Sarah O'Brien
contact@windsofangkor
www.windsofangkor.com