Bosbapanh will perform with OH Dabeen, 16 years old, Korea and LEE Seul, 21, Korea. The three young sopranos will sing Italian opera and Khmer classics.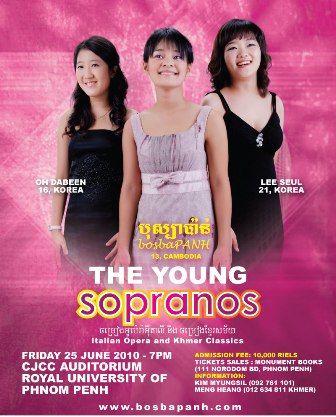 bosbaPANH
bosbaPANH is a Khmer soprano age 13. She has been performing since the age of 8. Her latest concert, Our Mothers, took place in October 2009 at Chaktomuk Hall and drawing double the capacity of the theater. She has already released 3 CD albums, 5 single albums and 2 DVDs. She sings "phleng cheewit"or songs for life from Cambodia and an international repertoire. She plays piano, guitar and violin and has been trained by Khmer and international teachers from China, the Philippines and Japan. She has been coached by Korean soprano Kim Myungsil for the past year to learn western classical music techniques. Bosbapanh is a student at the French Lycee Rene Descartes of Phnom Penh and has two brothers who are also artists. (www.bosbapanh.com)
OH Dabeen
Dabeen is 16 years old and has received vocal lessons from soprano Kim Myungsil since 2006. She is a ninth grader at the French Lycee Rene Descartes of Phnom Penh. She is preparing herself to enter one of the best highschool in Paris and to continue to study music at the Conservatoire de Paris.
LEE Seul
Seul is 21 years old and has been studying music and singing for several years. She has been coached by soprano Kim Myungsil since early this year to prepare for music competitions. This October, she will enter the Conservatory of Music in Italy.
Soprano KIM Myungsil
Teacher Myungsil received a diploma in vocal studies from Verdi Conservatory in Italy. She graduated from Reggio Calabria Academy (Italy). She won prizes at the Torino competition and performed as a solist in several concerts in Bolzano, Trento, Milano, Monza. Her repertoire includes Mozart, Donizetti, Bellini, Rossini's opera and special opera buffa. Joining her husband, she is now living in Cambodia and has established Cantabile, a group of professional vocalists in Phnom Penh. She is teaching shalom music class in Phnom Penh.
More information: Kim Myungsil 092-761-101