bosbaPANH has launched her second album at the Grand Concert bosbaPANH held at Chaktomuk Hall, on Friday 21 December 2007 at 19:00 pm. The concert was under the patronage of the Ministry of Culture and is opened by HE Veng Sereyvuth.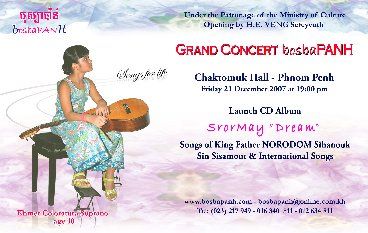 bosbaPANH confirms her talent as a classical singer in exploring the cultural richness of her country and in making hers some famous international songs. Her album SrorMay, Dreams expresses her happiness as an artist but also a child's freedom whose spirit travels across boundaries. As with her first album of songs, the new CD contains a number of well-known songs from King Father Norodom Sihanouk, such as Brise de Novembre. These songs are well adapted for a classical interpretation which showcases the colors of bosbaPANH's voice.
 SrorMay, Dreams also revives traditional but forgotten lullabies such as Bompe, Om Touk, songs that Khmer children certainly remember as their mothers sang to them when they were young. Thanks to a joyful and creative singing, bosbaPANH modernizes century-old songs that will stay forever in the memory of Cambodians. For example, Om Touk is accompanied by acoustic guitars and bosbaPANH blows melodious whistles which recall us of children wandering in the rice fields when back from school. Finally, the album also includes several international songs interpreted in Khmer selected by bosbaPANH for their melodies or the forceful lyrics and which are musical references in their respective countries: Mona Lisa by Nat King Cole (USA), Douang Champa (Laos), Hemapean and Sopheab Neary (China), the Song of Partisans (France), "Blowin' in the Wind" by Bob Dylan (USA). These last two songs are contest songs calling for peace and for a better world: the Song of Partisans was composed during the Second World War when Charles de Gaulle was in exile in London and called the French to resist the German occupation; this song echoes the fight that King Norodom Sihanouk was leading in 1953 for the independence of the Kingdom of Cambodia: Friends, can you hear, the muffled cries of our country in chains. It is us who break the bars of prisons for our brothers.
Blowin' in the Wind, composed in 1962 by world famous Bob Dylan, became the symbol of anti-war movements and laments about one's blindness against injustice. In a world ravaged by conflicts and where the gap between the rich and the poor widens, these two songs have their place in today's world and questions each and everyon's commitment to improve the world : How many deaths will it take till he knows that too many have died ?
Accompanying bosbaPANH are ten young instructors and graduates from the Royal University of Fine Arts. They form a semi-classical orchestra where they play traditional songs in a contemporary style. bosbaPANH and her band La Compagnie bosbaPANH aim at reviving the type of concerts directed by young Prince Norodom Sihanouk in the early 1960s as well as the glamorous style of Sin Sisamouth, widely known as the "Khmer Golden Voice". In their musical expression, BosbaPANH and her musicians want to promote the music and culture of Cambodia. While the Royal University of Fine Arts faces difficulties to operate after being moved out to the suburbs of Phnom Penh, La Compagnie bosbaPANH is an extraordinary opportunity for these musicians who have studied five years or more to play as professionals and show their talent.
In little less than two years, bosbaPANH has created a wide following. Fans age 7 to 77 like her authenticity and admire her talent. Children see her as a role model, university students appreciate her international role, parents and grandparents remember a happier past when they hear her songs. They firmly believe that she will contribute to the Khmer cultural influence: « Bosba, you will be our great Cambodian singer in the future. We could see that you will be able to bring Cambodia to the world» (Sakol, producteur TV5) ; « I truly believe that her talent is phenomenal. I do hope that you continue to help her flourish her music as this is not only great for your family but is beneficial to Cambodia's future". (Sarita Nuch Ang, Voice of America, October 2007) More than 700 fans attended and many more could not enter the Chaktomuk Hall which has a capacity of 570 seats.  
he first CD album « Phnom Penh » as well as this second album « SrorMay, Dreams » by bosbaPANH are on sale at Mekong Libris, Carnets d'Asie and Monument Books or contact la Compagnie bosbaPANH at www.bosbapanh.com